Full information about LesPromInform magazine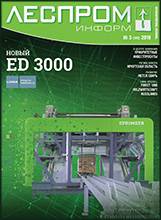 Lesprominform magazine has been issued since 2002
Circulation 15.000 copies
Periodicity 8 times per year
Number of pages 160–200
Audience officials, top management and technical specialists of forestry mills, timber-processing plants and furniture fabrics
LesPromInform is a professional magazine that reviews the Russian timber industry as a whole − from forestry legislation and forestry, logging and woodworking, bioenergetics and pulp-and-paper production to furniture manufacture and wooden house building.
Every issue of LesPromInform provides our readers with political and economical news of the industry, surveys of the most pressing issues of the day for the Russian timber with comments from our experts, tells about events, presentations, and key market players.
We provide with informational and analytical materials to help you understand state of affairs in every sub-industry, regional legislation and choose optimum development perspectives.
We publish independent technical surveys of equipment prepared by our analytical department of the editorial staff in cooperation with the advisers and experts of companies operating in the industry.
Our strengths
There is an expert council that takes part in preparation of the journal materials. It includes magistracy, politicians, managers of the public organizations and leading business-structures.
Professional journalists with extensive knowledge about timber industry and experts of the leading industry companies are authors of articles in LesPromInform.
LesPromInform obtains exclusive information from regional departments of forestry and forest management and is invited for all significant events. We have always been well-informed about the most important events in the industry!
During 16 years of its responsible work LesPromInform has gained a status of qualitative and quite expensive periodical, which only respectable and stable companies can afford to advertise themselves. Our quality, status, history and even the advertising rates serve to improve image of our partners.
In the media market LesPromInform publishes the broadest range of topics and articles which ensure 100% of interest from the market as every reader can easily find his own topics of interest in the journal. Due to the crisis we have started two new sections dedicated to search of financial help and reviewing leasing and credit offer market and also including some legal information.
Auditorium of the journal is comprised by leaders and technical experts of large and medium enterprises in the spheres of timber-logging, wood-processing, furniture production and wooden house construction as well as banks, authorities, and etc. We have a verified and constantly updated database of industrial enterprises. Prompt mailing within the whole RF includes both subscribers and VIPs and also random sampling from database of free mailing!
LesPromInform provides the largest number of exhibitions within the whole RF (including distant regions) and also has always been participating on the largest foreign exhibitions.
Our editorial board is used to book its own stand at LIGNA, Xylexpo, IWF, Elmia, Drema and other exhibitions.
LesPromInform has the largest internet circulation among the Russian printed edition of the industry and is quite competitive from the point of view of its attendance as compared with Internet portals.
We provide open access to all texts and PDF versions of all editions! Our whole 16-year journal archive is open to the readers! Every issue is downloaded from 10,000 times a year on average.
We distribute CDs with the full journal archive at the exhibitions with circulation of 100 to 1,000 samples. This also works for increasing our auditorium and durability of our issues!
LesPromInform has been participating in all the important RF seminars and conferences frequently becoming their co-organizer. It also organizes its own seminars at leading exhibitions.
LesPromInform has also other projects: exhibition newspaper − LesPromFORUM − and also a serious of analytical materials on the Russian timber industry in English − Russian Forestry Review.
Information features
In Focus − the most pressing issues of the day for the Russian timber industry with comments from experts.
Issue in Focus − material block on a hot topic (investments, crediting and leasing in the timber industry, personnel, forest certification, woodworking technologies, ecology, management, forest fires and etc. − everything that can be important for wide auditorium of our readers) aiming to develop topic to the maximum and review it from different points of view.
Region in Focus presents one of the forest regions of Russia − condition of forest resources and sub-industries of timber industry, development prospects, investment climate and largest investment projects and also contact details of leading enterprises and institutions in the region.
Development tells about the key market players, the most important or unique new manufactures and modernization of old enterprises.
News − the most important political and economical news of the Russian timber industry, of the former Soviet republics and other foreign countries since publication of the previous issue of the journal.
Forest Code − forest legislation and laws enforcement (Forest Code, forest use, customs legislation)
Capital − leasing, crediting in timber industry, and banking services.
Patents and Inventions − the most recent patented inventions, know-hows and innovational technologies in timber industry.
Abroad − state of affairs in forestry in other countries.
In contact − foreign press on forest sector of the Russian economics.
Events − sectoral events: exhibitions, conferences, forums, presentations, seminars and competitions.
Exclusive − the unique wooden creations of craftsmen, working with different techniques.
Ecolife, where we provide certain examples of how Human and Nature can coexist harmoniously.
---
Sector features
Forestry, Timber-Logging, Wood-Sawing, Wood Preservative Dendrochemistry, Wood-Drying, Wooden Materials, Woodworking, Furniture Manufacture, Pulp-and-Paper, Aspiration, Software, Automation, Wooden House-Building, Bioenergy, Forest Science, Staff.
Every section contains informational and analytical materials on situation in a certain sub-industry, problems and perspectives, equipment and techniques, machines and tools and experience of certain enterprises. Experts from different companies (suppliers, dealers, and customers), who are ready to express their opinion and be sincere in their answers to the questions formed by the editorial staff with the help of advisers, are invited to write technical surveys. The main goal of each surveys is to discuss independently (due to wide range of participants-competitors) and non-commercially crucial issues of equipment selection and operation. We do not draw firm conclusions. We let our readers make their own decision by providing them with opinions, arguments, advice, and tips.
Distribution
Mailing by subscription
the journal is sent to subscribers on a regular basis. Subscribers' database includes areas from North-West to Far East of Russia. Since 2007 the publishing house has been working with leading Federal and alternative subscribing agencies − Kniga Service (Pressa Rossii catalogue), SZA Pressinform and Inter Pochta.
Free mailing based on rotation of database of the Russian timber enterprises.
Our publishing house has more than 15,000 addresses of the subscriber companies in details such as mailing address, phone numbers and contact persons.
We perform continuous informational monitoring and search for new contacts. According to the obtained base the editorial staff chooses addresses for further journal mailing − each organization is included into the mailing list two-three times a year on average.
In Russia the journals are delivered by FSUE Russian Post and in other countries by mail and messenger services (TNT, DHL and Pony Express).
Partners companies' offices
The journal is spred in the different Russian cities − in Moscow, St. Petersburg, Vologda, Arkhangelsk, Novosibirsk, Khabarovsk, Yekaterinburg, Zelenodolsk (Tatarstan Republic) and other.
Exhibitions
More than 40 specialized exhibitions and conferences both in Russia and abroad (Germany, Austria, Italy, Spain, Sweden, Norway, Finland, and USA). LesPromInform is a co-organizer of thematic conferences held by St. Petersburg State Forest-Technical Academy and Science and Training center of Forest Engineering Faculty, and also assists in Spring Biofuel Congress held by biofuel portal Wood-Pellets.com.
Internet
Official journal website www.LesPromInform.com contains archive of all journal issues (printed and PDF version) which is downloaded by internet users about 10 000 times a year, as well as news and inquiry information and photo reports from different events.